TOP STORIES
Kelly-Moore Paint Company Makes a Generous Endowment to the Texas Builders Foundation to Provide Scholarships
San Carlos, CA—August 5, 2015 — Kelly-Moore Paint Company and the Texas Builders Foundation are excited to announce the establishment of the Kelly-Moore Paints Endowment to the Texas Builders Foundation. The $125,000.00 endowment will provide scholarships to students who are enrolled in construction related programs in Texas' trade and technical schools and colleges and universities.
For the last several years, Texas' residential construction industry has faced a shortage of skilled workers, and over the next five years an estimated 20 percent of skilled laborers in the construction industry will retire. According to the Texas State Data Center, in 2014 an estimated 2,600 individuals moved to Texas every day, and as additional individuals and companies continue to relocate to the state, the need for quality, affordable housing will continue to be in demand.
Steve DeVoe, Chairman, CEO and President of Kelly-Moore said, "We take pride in our products, and want to be the building industry's paint source. We have 31 stores in Texas, and two more will open soon. We are committed to providing industry excellence to help ensure the future of the professional construction workforce."
The Kelly-Moore Paints Endowment will not only bring attention to the building industry as a professional career choice but will make a significant difference in the future of Texas students who are working toward earning construction trade certifications or degrees and who are planning to join the building workforce in Texas.
In 2013, the Texas Legislature passed comprehensive education reform, giving high school students a choice in their post-graduation path, allowing them to prepare for college, or choosing elective courses that prepare them for employment immediately upon graduation from high Page 2 of 3 school by, for example, earning construction industry or trade certifications. In 2015, the Legislature passed and the Governor signed into law, additional legislation that removed the dual credits cap, thereby allowing students the opportunity to graduate from high school with not only an industry or trade certification, but with an Associates Degree.
Joe Carlyle, Chairman of the Board of Trustees of the Texas Builders Foundation and president of Carlyle Homes in Troup, Texas said, "On behalf of the Board of Trustees, I want to thank Kelly-Moore Paints for their investment in the future of the building industry. We – the Foundation's Trustees and the Kelly-Moore team – are dedicated to helping young people achieve a certification or degree in a construction related field, to providing opportunities for employment as building professionals, and to helping Texans achieve the dream of homeownership. We are committed to opening these doors across our state."
About Kelly-Moore Paint Company, Inc.
Headquartered in San Carlos, California Kelly-Moore is one of the largest employee-owned paint companies in the United States, where each employee-owner is committed to offering the exceptional customer service for which the company is renowned. When you call or visit a Kelly-Moore store you are speaking with an owner. A leader and innovator of waterbornecoating technology, Kelly-Moore was the first major paint company to offer recycled-reclaimed paints, 0-VOC waterborne colorants, and the industry's largest selection of stock colors. KellyMoore is one of the few paint companies committed to continue providing stock colors for their superior color consistency. Introduced in 2013, its Studio Collection offers over 1700 custom hues inspired by the diverse landscapes and architecture of the western U.S.
Trusted and preferred by professionals since 1946 as the "Painter's Paint Store" for its high quality, performance and consistency, Kelly-Moore's paints are safe and easy to use for everyone. The company's environmentally friendly paint factory in San Carlos is the recipient of four widely recognized and among the most stringent environmental awards. Kelly-Moore is dedicated to giving back to the communities it serves. This ethos is reflected in its corporate giving program and its numerous industry-leading green business accolades.
About the Texas Builders Foundation
The Texas Builders Foundation, the charitable arm of the Texas Association of Builders, serves as a resource to students, the residential building industry, and the citizens of the State of Texas. Its mission is to support and develop the future of Texas' construction workforce and facilitate the charitable activities of the residential construction industry. The Foundation awards student scholarships to individuals enrolled in Texas' technical and trade schools, as well as to those in community colleges and universities that offer construction degrees. Page 3 of 3 Established on February 5, 2010, this corporation was organized exclusively as a public charity within the meaning of Section 501(c)(3) of the Internal Revenue Code of 1986, as amended. All contributions to the Texas Builders Foundation are tax deductible. For more information or to make a donation, visit TexasBuildersFoundation.org.
Read More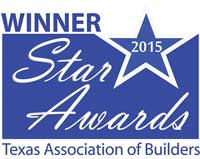 Congrats to Betenbough Homes a 2015 Star Award Winner!
GRAPEVINE, Texas – The Texas Association of Builders (TAB) announced and presented the 2015 Star Awards winners on Thursday, July 30 at the Gaylord Texan® Resort and Convention Center in Grapevine. The highly-coveted Star Awards are given annually in conjunction with the Sunbelt Builders Show™ to recognize excellence in all areas of the home building industry.

In 1992, the Texas Association of Builders launched the Star Awards – the only statewide tribute to excellence in the home building industry. The 2015 Star Awards recognized the outstanding work of builders, remodelers, architects, designers, sales professionals, marketing professionals, construction professionals and industry leaders in Texas and the Southwest.

Entries were judged by a distinguished panel of industry experts. Winners will be featured in the September/October issue of Texas Builder magazine. For more information about the Star Awards, please visit www.TexasBuilders.org.


2015 GRAND AWARD WINNERS
Custom Builder of the Year
Jenkins Custom Homes | Austin, TX

Remodeler of the Year
David Wilkes Builders | Austin, TX

Volume Builder of the Year - High Volume
Ashton Woods Homes | Houston, TX

Volume Builder of the Year - Mid Volume
Scott Felder Homes | Austin, TX

Developer of the Year
Ryko Development - Lakes of Bella Terra | Richmond, TX
2015 WINNERS LISTED BY COMPANY

Adam Wilson Custom Homes, San Antonio, TX
Custom Builder - Best Kitchen - Over $2M
Custom Builder - Best Master Bedroom - $1M - $2M
Custom Builder - Best Showroom/Sales Center

Aliana, Houston, TX
Developer - Best Innovative Signage

Allegro Builders, Houston, TX
Custom Builder - Best Architectural Design - $751 - $999K
Custom Builder - Best Master Bathroom - $750K - $1M
Custom Builder - Best New Custom Home - Under $1M

Allura USA, entered by On-Target! Agency, Houston, TX
Associate - Best Website

Anderson Hanson & Blanton – Addison, TX
Developer – Best Billboard for Trinity Falls, developed by Castle Hill Partners, McKinney, TX
Developer - Best Print Ad for Trinity Falls, developed by Castle Hill Partners, McKinney, TX
Developer – Best Television Commercial for Trinity Falls, developed by Castle Hill Partners, McKinney, TX
Developer – Best Showroom/Sales Center for Windsong Ranch, developed by Terra Verde Group, Prosper, TX
Developer – Best Website for Windsong Ranch, developed by Terra Verde Group, Prosper, TX

Ash Creek Development entered by SmartTouch Interactive, Austin, TX
Developer - Best Online Advertisement

Ashton Woods Homes, Houston, TX
Volume Builder - Best Interior Merchandising - $500K - $599K,
Volume Builder - Best Interior Merchandising - $700K - $999K
Volume Builder - Best Product Design - $250K - $349K
Volume Builder - Best Product Design - $350K - $499K
Volume Builder - Best Product Design - $500K - $599K
Volume Builder - Best Email Message
Volume Builder - Best Billboard
Volume Builder - Best Sales Brochure
Volume Builder - Best Website
Construction Manager of the Year - Donnie Wessels
Mortgage Industry Professional of the Year - Marcos Hernandez with Wells Fargo Home Mortgage entered by Ashton Woods Homes
Grand Award - Volume Builder of the Year - High Volume

Bella Vista Homes - Princeton Classic Homes, San Antonio, TX
Volume Builder - Best Product Design - $600K - $699K

Betenbough Homes, Lubbock, TX
Volume Builder - Best Direct Mail Piece

Boe Creative for Cypress Creek Lakes, Cypress, TX
Developer - Best Special Promotion

Bridgeland Developement, LP, Cypress, TX
Developer - Best Overall Community 20 Acres or More

Cambria, Houston, TX
Associate - Best Direct Mail Piece

Chairma Design Group, Houston, TX
Custom Builder - Best Interior Design - $2M and Over
Custom Builder - Best Specialty Room
Custom Builder - Best New Custom Home - Over $2M

Couto Homes, Granbury, TX
Custom Builder - Best Kitchen - Less Than $500K
Custom Builder - Best Master Bathroom - Less Than $500K
Custom Builder - Best Outdoor Living Space - $500K - $999K

Craftsmanship by John, Houston, TX
Remodeler - Best Outdoor Living Space - $40K - $60K

Cypress Creek Lakes entered by Boe Creative, Cypress, TX
Developer - Best Special Promotion

David Wilkes Builders, Austin, TX
Custom Builder - Best Architectural Design - $500K - $750K
Remodeler - Best Bathroom Renovation - $50K - $100K
Remodeler - Best Whole House Renovation - Less than $150K
Remodeler - Best Whole House Renovation - Over $500K
Remodeler - Best Direct Mail Piece
Project Manager of the Year - Chris Carrillo
Grand Award - Remodeler of the Year

Friendswood Development Company, Houston, TX
Developer - Best Direct Mail Piece,

Gehan Homes, Addison, TX
Volume Builder - Best Interior Merchandising - $600K - $699K
Volume Builder - Best Print Ad
Volume Builder - Best Radio Commercial

Goette Custom Construction LLC, Houston, TX
Remodeler - Best Kitchen Renovation - $25K - $49.9K

Grupo 4S, Hildalgo, TX
Associate - Best Print Ad,
Associate - Best Sales Brochure
Associate - Best Sales Center

Hills of Texas Homes, Fredericksburg, TX
Custom Builder - Best Interior Design - $500K - $750K,

J. Patrick Homes, Houston, TX
Volume Builder - Best Product Design - $700K - $1.5M,

Jamestown Estate Homes, Houston, TX
Custom Builder - Best Kitchen - $500K - $750K
Custom Builder - Best Master Bathroom - $500K - $750K
Construction Superintendent of the Year - Kurt Gorrell
Warranty Service Professional of the Year - Lindsey Bechtold

Jauregui Inc., Austin, TX
Custom Builder - Best Architectural Design - $2M and Over
Best Poolscape

Jenkins Custom Homes, Austin, TX
Custom Builder - Best Architectural Design - $1M - $1.99M
Custom Builder - Best Master Bathroom - $1M - $2M
Custom Builder - Best New Custom Home - $1M - $2M
Custom Builder - Best Outdoor Living Space - $1M - $1.5M
Custom Builder - Best Online Advertisement
Grand Award - Custom Builder of the Year
Kent Moore Cabinets, Austin, TX
Associate - Best Showroom,

Laughlin Homes & Restoration, Inc., Fredericksburg, TX
Custom Builder - Best Master Bedroom - $500K - $750K
Custom Builder - Best Print Ad
Remodeler - Best Addition - Over $500K
Remodeler - Best Kitchen Renovation - $100K - $250K
Remodeler - Best Kitchen Renovation - Over $500K
Remodeler - Best Whole House Renovation - $200K - $499K

LBJ Construction, Houston, TX
Custom Builder - Best Kitchen - $750K - $1M

Mary DeWalt Design Group, Austin, TX
Volume Builder - Best Interior Merchandising - $350K - $499K

On Point Custom Homes, Houston, TX
Custom Builder - Best Architectural Design - $250K - $499K
Remodeler - Best Bathroom Renovation - $25K - $49K
Remodeler - Best Outdoor Living Space - $65K - $100K
Title Industry Professional of the Year- Leslie Work with Frontier Title

On-Target! Agency for Allura, Houston, TX
Associate - Best Website

On-Target! Agency for Ryko Development - Lakes of Bella Terra, Richmond , TX
Developer - Best Radio Commercial
Developer - Best Sales Brochure

RE/MAX Associates - The Schrader Group, San Antonio, TX
Marketing Professional of the Year - Amy Marie Lederman
Realtor of the Year - Dayton Schrader

RisherMartin Fine Homes, Austin, TX
Remodeler - Best Addition - $100K - $150K,
Remodeler - Best Kitchen Renovation - $50K - $99K
Remodeler - Best Print Ad
Remodeler - Best Sales Brochure

Ryko Development - Lakes of Bella Terra, Richmond, TX
Developer - Best Radio Commercial
Developer - Best Sales Brochure
Grand Award - Developer of the Year

Scott Felder Homes, Austin, TX
Rookie Sales Professional of the Year, Sara McGettrick with
Volume Builder - Best Showroom/Sales Center
Volume Builder - Best Special Promotion
Grand Award - Volume Builder of the Year - Mid Volume

Seahorse Beach Club & Residences entered by SmartTouch Interactive, Freeport, TX
Developer - Best Email Message

Sitterle Homes, San Antonio, TX
Sales Manager of the Year - Cheri C. Bass
Volume Builder – Best Online Advertisement - entered by SmartTouch Interactive, San Antonio, TX

Smart Touch Interactive
Custom Builder - Best Email Message - for Wilde Wood Construction, Georgetown, TX
Developer - Best Online Advertisement - for Ash Creek Development, Austin, TX
Developer - Best Email Message – for Seahorse Beach Club & Residences, Freeport, TX
Volume Builder - Best Online Advertisement - for Sitterle Homes, San Antonio, TX

Sterling Custom Homes, Austin, TX
Custom Builder - Best Interior Design - $1M - $1.99M
Custom Builder - Best Kitchen - $1M - $2M
Custom Builder - Best Website

Studio Bespoke, Houston, TX
Multifamily Best Interior for a Clubhouse

Texas Custom Patios, Stafford, TX
Remodeler - Best Outdoor Living Space - Over $100K

The McVaugh Group, Houston, TX
Custom Builder - Best Sales Brochure

the NRP Group, San Antonio, TX
Developer - Best Overall Community up to 20 Acres

Tier1 Group, LLC, Leander, TX
Remodeler - Best Addition - Less than $50K

Trinity Falls, developed by Castle Hill Partners, McKinney, TX
Developer - Best Billboard
Developer - Best Print Ad
Developer - Best Television Commercial, Trinity Falls

Tropicana Homes, El Paso, TX
Volume Builder - Best Custom Home,
Sales Professional of the Year - Sylvia Sandoval

USI Design & Remodeling, Grand Prairie, TX
Remodeler - Best Website

Vintage Estate Homes, New Braunfels, TX
Custom Builder - Best Interior Design - $751K - $999K

Wilde Wood Construction entered by SmartTouch Interactive, Georgetown, TX
Custom Builder - Best Email Message

Windsong Ranch, developed by Terra Verde Group, Prosper, TX
Developer - Best Showroom / Sales Center
Developer - Best Website

Wine Cellar Specialists, Richardson, TX
Remodeler - Best Specialty Room

Wright-Built, LLC, Hawkins, TX
Best Special Project

Zbranek & Holt Custom Homes, Austin, TX
Custom Builder - Best Outdoor Living Space - Over $2M
Custom Builder - Best Specialty Room
Custom Builder - Best New Custom Home - Over $2M


Read More
Contact the PBBA Office today to reserve your guidebook space! info@pbbatexas.org
Read More